Canadian Snowboard Cross National Championships at Big White's TELUS Park
Posted On: April 04, 2014 |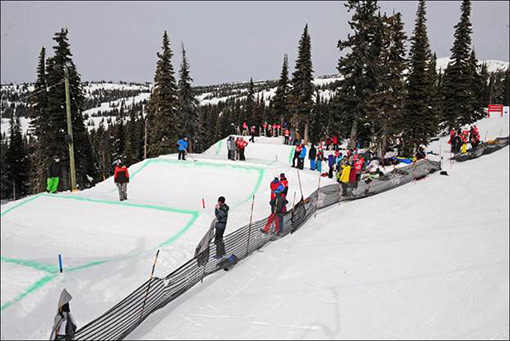 From April 3-6, 2014, Big White Ski Resort along with BC Snowboard are hosting the 2014 Sport Chek Canadian Snowboard Cross National Championships at Big White's TELUS Park. Riders from across Canada as well as riders who have joined us internationally will compete in their own respective categories which include Junior FIS, Senior FIS, U14 and Para Snowboard.
Athletes have the opportunity to train on the world class course, shaped by the Big White Terrain Park and Events Crew, at TELUS Park the two days leading up to the competition which officially starts on Saturday, April 5th with the Junior National Championships. 
Vernon local, Kevin Hill, who placed 8th at the 2014 Sochi Olympic Games and two-time Olympian and National Team member Rob Fagan of Cranbrook, will be among the noteworthy athletes competing in this weekend's National Competition.  

Following the debut of Para-Snowboarding in March at the 2014 Sochi Paralympic Games, Ian Lockey (Rossland, BC), Tyler Mosher (Whistler, BC) and Michelle Salt (Calgary, AB) will take to the course on Monday, April 7 during the Para National Championships. 

"We are so excited to have the top SBX racers at such a great venue.  We would like to extend our thanks to Big White Ski Resort for their continued support of amateur snowboarding." commented Cathy Astofooroff, Executive Director of the BC Snowboard Association.

For more information on this event and results please visit www.bcsnowboard.com and for more information events at Big White`s TELUS Park visit www.bigwhite.com.