Snow Report: March 26, 2017
Posted On: March 27, 2017 |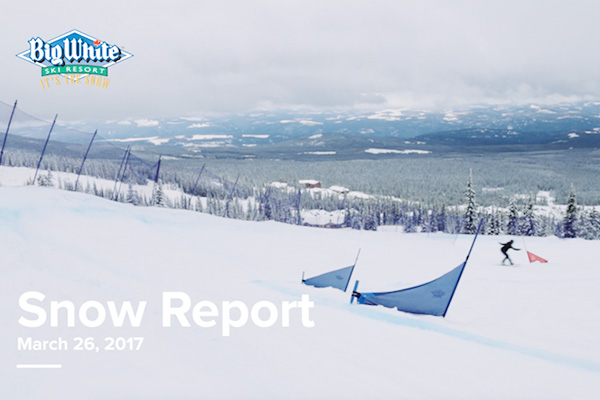 What a weekend up on the mountain! With some big events happening alongside some even bigger snowfalls, the season certainly isn't slowing down.
With over 30cm of fresh snow in the last three days and a total of 206cm cumulative snowfall in March alone, we've enjoyed some incredible powder days - and with more snow in the forecast, the fresh tracks and smooth groomers won't be disappearing anytime soon.
We were proud to host the 20th Annual Neil Edgeworth Memorial Banked Slalom this weekend. A record number of participants – 320 in total - took part in this year's slalom over two days, March 25 and 26. The youngest participant was six years old and the oldest was 63 years old.
The fastest time went to 36-year-old Tom Velisek from Whistler, with a time of 1:24:09. 29-year-old Stephanie Haines took out the fastest time for the ladies, clocking in at 1:29:65 and making history as the first to win the Female Pro category four years in a row.
Big White also hosted the mountain's first-ever beer festival this weekend- Ales & Après! Participants tasted brews from 20 boutique and big-name breweries including Steamworks, Red Truck Brewing, Sleemans and Freddy's Brewpub.
We're also celebrating a big win on the mountain - congratulations to the Canadian National Ladies SBX team, Carle Brenneman and Big White's very own Tess Critchlow, for coming in third at the Veysonnaz World Cup! We couldn't be more proud.
Stay tuned for more snow and more events on the horizon, including the much-anticipated Peak Pride 2017 happening April 7-9!
Follow Big White Ski Resort on Facebook, Twitter, Youtube, and Instagram.