Snowy January at Big White Ski Resort stimulates local economy
Posted On: February 08, 2018 |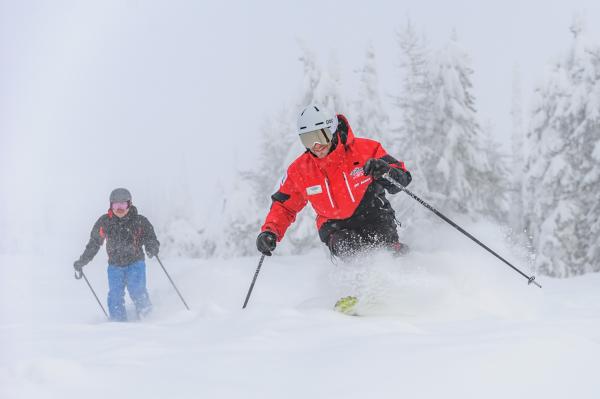 With 194cm of snow in January alone, snow removal is a daily occurrence at Big White. Photo courtesy of Big White Ski Resort.
Big White Ski Resort saw 194cm of snow fall throughout the month January bringing the alpine snow base at the resort up to 232cm by the end of the month. This came after several consecutive days of snowfall at the end of December driving huge traffic to the resort's website. So far in February, 67cm of snow has fallen bringing the alpine snow base up to an impressive 260cm with 585cm total accumulative snowfall this season. Big White is on track to break the 300cm mark for alpine snow base by the end of the month.
To some these numbers may seem irrelevant, but in British Columbia there is a direct relationship between snowfall and impact on the local economy. In December, Bigwhite.com received an average of 15,157 visits per day, but following days of consecutive snowfall, the website hit 25,734 visits on December 28. The same trend continued in January with an average of 17,655 visits per day, but over 20,000 on January 12 and 25 following big overnight snowfalls.
"While most people hate driving in it, shoveling it and its temperature, we love the business of snow! We are truly blessed to live where we do as we get the driest, deepest Champagne Powder in the world," says Michael J. Ballingall, senior vice president at Big White Ski Resort. "Truly, British Columbia is the world's greatest ski destination and people will pay us to play in it."
In January, Big White Central Reservations received 1480 bookings amounting to 3673 nights with a total revenue of nearly $2.5 million. Big White's annual one day sale took place on January 30 breaking previous records with 144 bookings, 438 nights and over $150,000 in revenue.
With Big White's village elevation of 1,755m, snow typically stays on the ground until spring, which means snow removal services are in high priority at the resort supporting many jobs throughout the winter months. The highway is cleared at all hours of the day and night, walkways are shoveled and community roads and driveways are cleared on a daily basis. Big White Ski Resort alone spent over $100,000 on grader and loader snow removal from the middle of December to the middle of January.
As the snow continues to fall today, Big White is expecting big numbers for BC Family Day weekend and is offering BC residents 50% off lift tickets on Monday, February 12 with government issued identification.

*British Columbia Residents Get 50% off all full priced 1 day Lift Tickets on BC Family Day, Monday, February 12th.
*Present valid BC photo ID and receive 50% off at the ticket window.