Posted On: March 19, 2017 |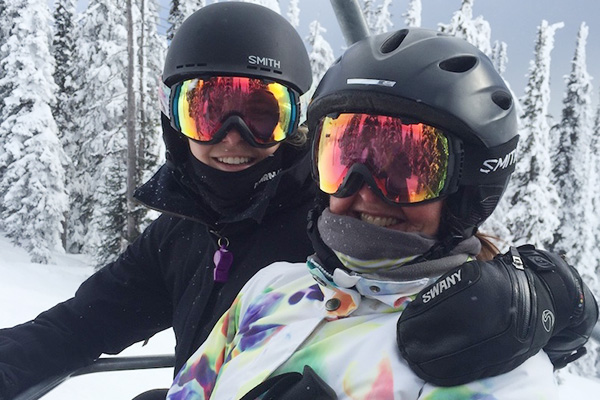 Every Wednesday at Big White is Ladies Day - a day dedicated to all the women out there who love goggles on their face and powder under their feet. This event has been around for nine seasons, and offers a fun and relaxed environment for women of all ages and abilities to come together and build their confidence on the slopes. It's especially popular for women on vacation looking for a bonding experience, such as mother/daughter duo Amelia Eagan and Anne Roby.

Amelia (23) and Anne Roby (59) are long-time visitors of Big White Ski Resort; after being introduced to the resort at a young age, Amelia has been an employee of the hill for three seasons, with Anne regularly visiting her daughter at her new home. "It can sometimes be easy to take such a beautiful place for granted, especially when Big White has been such a big part of both our lives for some time now. My mother was only here for a few weeks, so we wanted to make sure we did something special together, that also reminded us why we both fell in love with Big White," said Amelia.
Ladies Day begins at 10:00am in front of the Village Centre Mall. As ladies chat, excited to start their day, Big White Ski & Board School instructors organize the women into groups of similar skill levels. Amelia and Anne were placed with a group of strong level 5 skiers, comprised of women from Canada, America, and Australia before setting out onto the slopes. As they progressed, each lady was encouraged to set a personal goal for the day. For Amelia it was her arm positioning and for Anne it was finishing her turns.
Their mountain adventure started at the Alpine T-bar, across to Gem Lake, and then onwards to Powder Chair before returning to Happy Valley for lunch.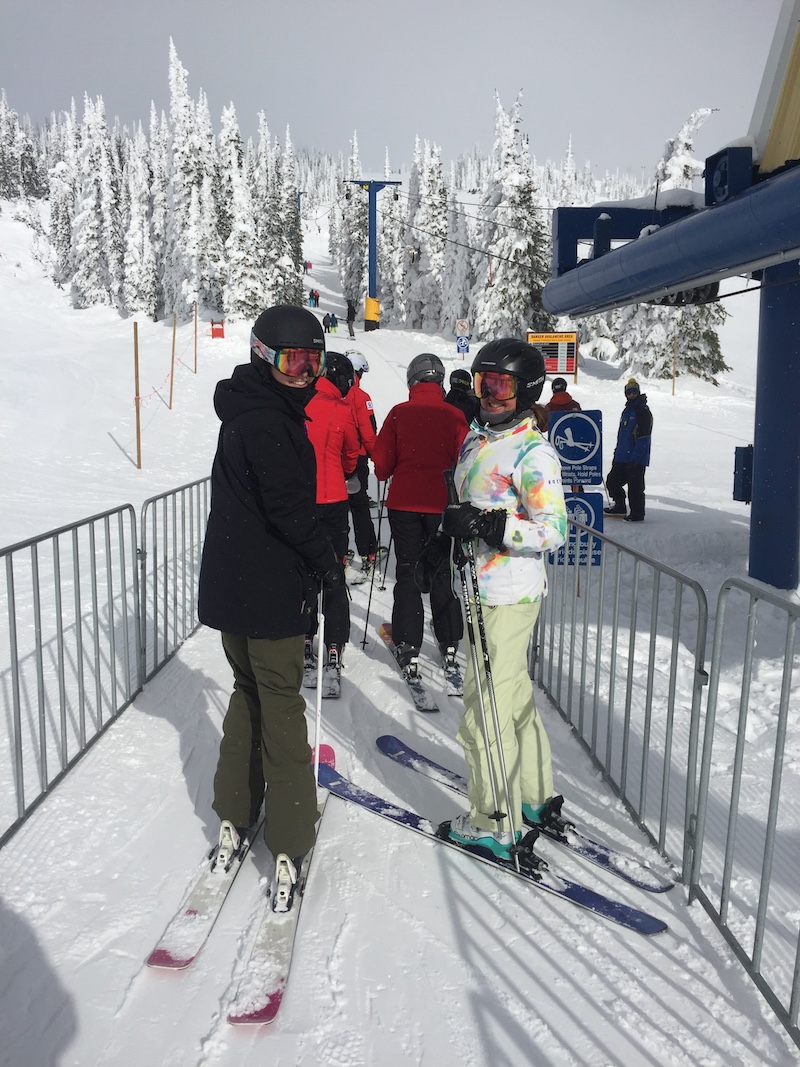 "We had such an amazing day all over the mountain, I have been intending to polish up on some elements of my technique for a while and it was the perfect atmosphere to do so; with a group of great skiing ladies, under the guidance of an instructor with as much charisma and humour as Mark," said Anne.
It's instructors such as Mark Tillotson (Level 2 Ski Instructor and Ladies Day Coordinator) that make Ladies Day such a beloved event. In addition to his English wit and dry sense of humour, all of the women walked away having pushed themselves farther than they would have without Mark's unwavering encouragement and support.
This included straight-lining it down the steepest section of a run to Powder Chair! "What's the worst that can happen, it will be fun," were Mark's famous last words before the flock of ladies flew down the slopes, shrieking with delight.
Mark has run Ladies Day for the last nine seasons and considers it the "best day of the week". When asked how he became the Ladies Day Coordinator Mark explains: "It was 13 years ago. I was lining up to teach a regular group lesson. I looked over and saw a large group of girls and women laughing and getting ready to ski. I asked another instructor what was going on and he said, 'Oh, that's Ladies Day.' Straight away I said, 'I want to teach on that!' He replied, 'Everyone wants to teach Ladies Day.' Well, after much persuasion, I got myself on it. Little did I realize what a big event it was."
Mark has been teaching Ladies Day ever since. "It really is a great Big White institution," says Mark, "When girls get together, they socialize in a different way to guys. They really enjoy themselves and they laugh a lot. Skiing can be so much easier when you are having fun."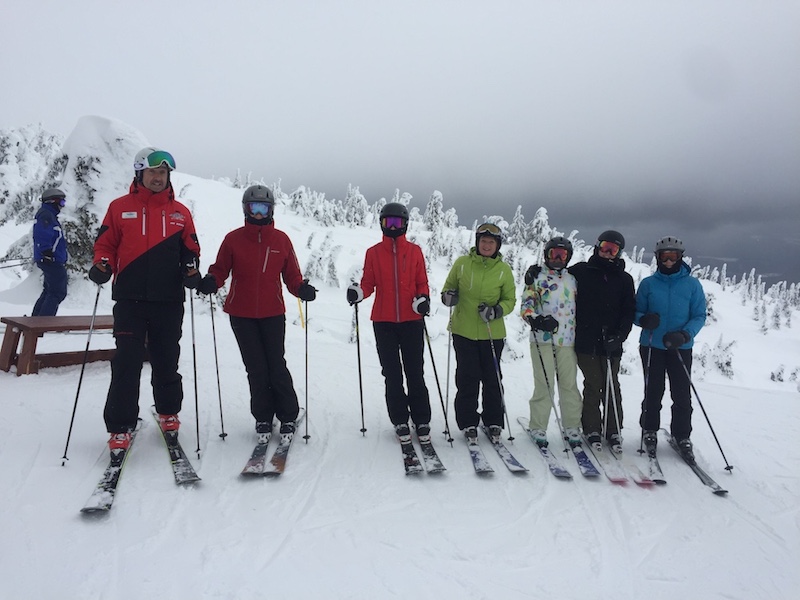 After two full hours on the hill, Amelia and Anne's group skied down to Happy Valley Day Lodge for a gourmet lunch at the Kettle Valley Steakhouse, where they met up with Mark and the other 75 ladies of the day from the other skill classes.
Big White's Executive Chef, Rob Walker, prepared the ladies a fuelling feast of traditional southern-style fried chicken and a fresh buffet of salads. Everyone laughed and mingled and sipped local Okanagan wine. At the end of the meal, winners were announced for the Ladies Day raffle and a few lucky women walked away with great prizes, such as gift vouchers to Globe Café & Tapas Bar, ski accessories from Altitude, and jewellery from Take Me Away Boutique.
Click here to learn more about Ladies Day, or call the Big White Ski & Board School at (250) 491 6101.