Big White Ski Resort to hold second annual Kelowna Cup
Posted On: March 01, 2016 |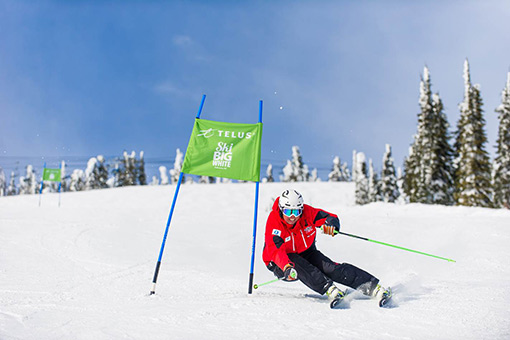 Big White Ski Resort has scheduled their second annual TELUS Kelowna Cup for Saturday, March 5, with all proceeds from the event going to support the KGH Perinatal Unit's 'Giving Giggles' campaign.
This much-anticipated event follows last year's Kelowna Cup, where over $26,000 was raised and donated to the Kelowna General Hospital Foundation.
The family-oriented fundraiser kicks off at 8am with registration and breakfast for competitors, followed by a morning dual slalom race from 10am and après and awards at Happy Valley Day Lodge from 3:30pm.
The race is in the form of a psychic slalom, where each racer is allowed one run before attempting to predict their time for the second run. The closest prediction wins.
Racers are encouraged to pull out their one-piece snowsuits, racing pants, headbands and zinc in an attempt to win the best-dressed prizes on offer, as well as contribute to the festive fundraising atmosphere on-mountain – which includes a DJ, a TELUS tent with giveaways and a photo booth at the start line.
Registration for the event is $20 per person and includes breakfast, two runs down the dual slalom course, a commemorative t-shirt, gift bag, post-event food and refreshments and the chance to win a variety of prizes. All registration fees will go towards the Giving Giggles campaign, with TELUS matching all funds raised through registration for an additional donation to the Giving Giggles campaign.
$10,000 worth of prizes are expected to be up for grabs on the day, including snowboards, skis and ski apparel such as goggles, jackets and pants.
The Kelowna Cup was originally resurrected during the 2014/2015 ski season after a 20-year-hiatus from the resort.
"We've been working with TELUS in the Okanagan community for many, many years," said Michael Ballingall, Vice-President of Marketing at Big White Ski Resort. "It's an honour to build an event where so many of our local skiers and snowboarders can give back to the KGH Perinatal Unit and the Giving Giggles campaign, knowing that TELUS will match the funds. We truly stand side by side with TELUS as we all give where we live."
Anyone who wishes to take part in the second annual Kelowna Cup can is encouraged to pre-register online at http://www.bigwhite.com/events
Photo attached: Josh Foster, Director of Snow Sports at Big White Ski Resort, takes a test run down the TELUS Kelowna Cup race course.