Big White Ski Resort donates day of family fun to 4-H Club of Boundary Country
Posted On: March 15, 2017 |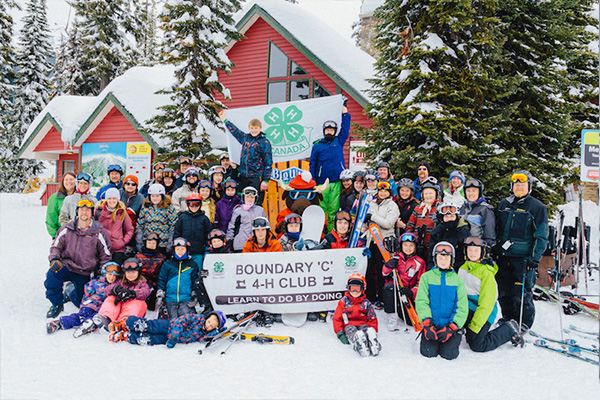 On Saturday, March 11, Big White Ski Resort welcomed the youth 4-H Club of Boundary Country and their families for a free day of fun at Big White Ski Resort!
The 4-H Club of Boundary Country (4-H BC) is a through program work and experiences within their district, region, and province. The mission of 4-H BC is to "inspire, educate youth development program that offers youth aged between six and 19 the opportunity to expand their knowledge, leadership, and citizenship skills while facilitating personal development and develop youth into empowered community leaders."
The 4-H movement originally started in 1914 with 200 young members. Today, the 4-H program is made up of over 3000 young volunteers, alumni, and their families who donate their time and efforts to fostering awareness for Canadian agriculture and respect for the land.
Big White Ski Resort Senior Vice President of Sales & Marketing, Michael J. Ballingall, originally met young volunteers of 4-H BC at an event hosted by Mission Hill Winery to celebrate the arrival of Prince William and Kate Middleton in 2016. He was inspired by their goodwill and dedication to their region and province.
"I was extremely impressed with the presentation of the Boundary 4H Club at the Royal Reception - so much so that I went up and thanked them. During the course of my conversation, I realized we were all neighbors," explained Michael. "The neighborly thing to do was to invite them to our home at Big White and celebrate their volunteerism. We're so happy they had such a great day."
To thank the honorable efforts of these young volunteers, Michael invited the entire 4-H BC club and their families to and come experience a day on the slopes at Big White Ski Resort. The Big White team was happy to arrange a donation of approximately $5000 to set the group up with 60 lift passes and full rental equipment for the day.
It was a spectacular day on the hill, with light spring temperatures and lots of fresh snow. "Skiing at Big White was so great!" said Jennifer MacDonald, Assistant Leader Boundary "C" 4H, "The runs are super long and there are cool jumps in the trees. We all had a great time in the terrain park and loved riding the gondola back and forth."
Big White was more delighted to host the group of community-minded youth and let them experience the stunning views and snowy slopes of BC's Kootenay Boundary backcountry.