Big White receives most snow ever during opening week
Posted On: November 29, 2017 |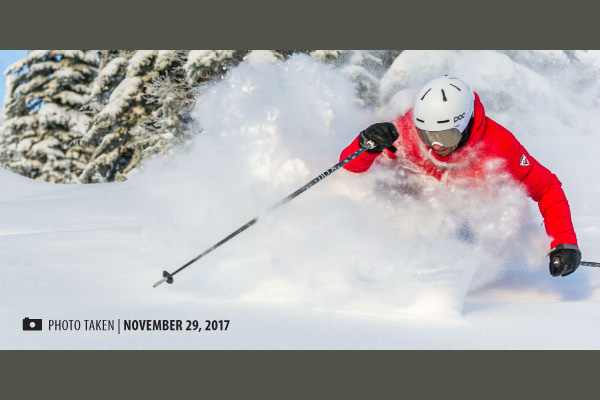 Big White Ski Resort has officially received the most snow during opening week in the resort's history.
It's been an incredible week at Big White Ski Resort heading into one of the most exciting weekends of the season!
"The snow gods are smiling upon us," says Michael J. Ballingall, senior vice president of sales and Marketing at Big White Ski Resort. "We've received 59cm of snow since Opening Day and it just keeps coming with 14cm of snow falling this morning alone!"
Thanks to all of the new snow, Big White is opening the Bullet Express Quad and Black Forest Express Quad at 8:45am Friday, December 1. The Big White Tube Park is also opening for the season at 4:00pm on Friday. Telus Park and the Happy Valley Beginner Teaching Area are opening at 9:00am on Saturday, December 2. As more terrain is opening, lift tickets will be full price as of Friday, December 1.
Big White has a stacked weekend of events lined up as a part of the new Winter Warm Up event series. Things kick off at 6:00pm on Friday, December 1 with the Winter Kick Off featuring a massive bonfire in Happy Valley followed by a firework display at 6:45pm. To end the night, Big White will be hosting its first ever drive-in movie with a screening of Frozen at 7:00pm.
Light Up Big White returns on Saturday, December 2 with the biggest family carnival of the season inside the Village Centre Mall. At 6:30pm the Village becomes a magical winter wonderland as 10,000 LED lights all come to life at once with a laser show followed by a spectacular firework display.
Big White's first ever Christmas Market hits the Village Centre Mall from 8:30am until 4:30pm on Sunday, December 3. The market will feature a variety of handmade and locally sourced products from local artisans as well as the essential Big White Christmas souvenirs.
Check out our daily snow report
View our Events Calendar