Hundreds flock to Big White for Opening Day
Posted On: December 04, 2016 |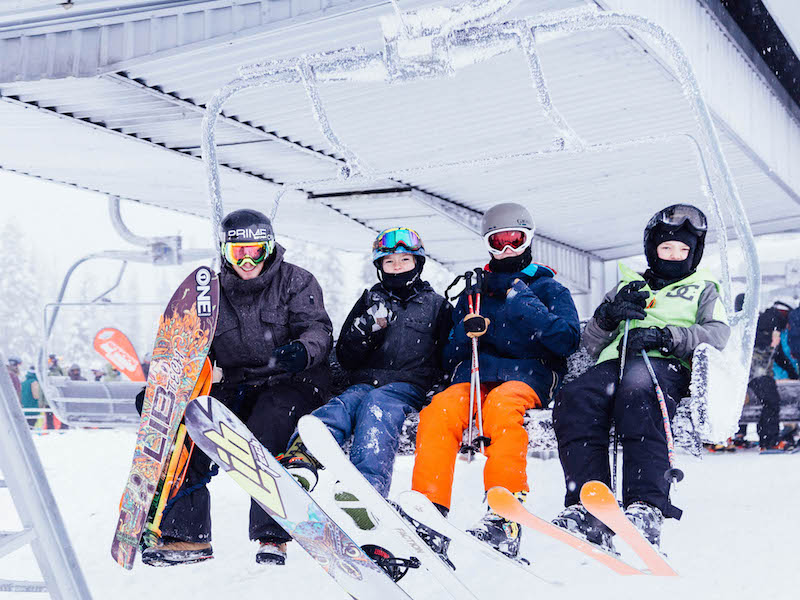 Three kids from the Big White Community School (Owen, Lewis and Tosh) and Josh from Kelowna on Big White's first chair of the 2016/2017 season!
Big White Ski Resort in Kelowna, BC has experienced its largest mid-week opening in the company's history today, with over a thousand skiers scanning through the lift turnstiles before 10am.
The mountain has had 42cm fresh snow in the last seven days alone, building up the alpine snow base to 70cm and ensuring that skiers and snowboarders have light, fluffy Okanagan Champagne Powder to enjoy on the runs.
Lifts started spinning at 8:45am, but the keenest of skiers were at the bottom of the Ridge Rocket Express Quad by 5:15am this morning, dressed in sleeping bags to stay warm. This included three kids from the Big White Community School, who skipped lessons this morning to be the first ones on the mountain.
13-year-old Owen said: "This is my fourth season getting first chair, we were all so excited for the ski season to start – we love Big White because it has lots of different types of terrain."  
With more snow in the forecast for the weekend, the resort will be reassessing snow conditions and opening more lifts and terrain as soon as they are cleared by Ski Patrol.
 "This is just the start to what's shaping up to be a great season," said Michael J. Ballingall, Senior Vice-President of Big White Ski Resort Ltd. "with only six runs open, it was a bit crowded out there today, but more snow means more runs, so keep an eye on the snow report."  
The resort has made a number of investments to make the upcoming season memorable, including a newly expanded Kids Centre, brand new coffee shop in the Village Centre Mall and a handful of new events on the calendar, including the World Para Snowboard Championships in February. 
Big White kicks off Christmas events this weekend with the Big White Light Up on Saturday night – featuring DJs, a laser show, fire dancers, carolers, a spectacular fireworks display and, of course, thousands of LED lights across the Village.
For a full list of holiday events and more, click here to check out the Big White events calendar.